My Favorite Chandelier that Won't Break the Bank
I've been searching high and low for the perfect chandelier for our bedroom but didn't want to spend a fortune. I finally found this amazing light and it's too good of a deal not to share…
Since starting to decorate our home, I've been amazed how different a room can look just by swapping out old fixtures and fans. Not only can you add more brightness but light fixtures can be a statement, decorative piece as well. I've also learned, however, that lighting can be expensive… really expensive actually! With so many things to buy for our place, I didn't want to make a huge investment in one piece.

Our bedroom has a peak ceiling so I knew I needed a light fixture that would be the focal point of the room. I started searching for the perfect piece but quickly realized that my ideal chandelier from Restoration Hardware (below) was way out of my budget.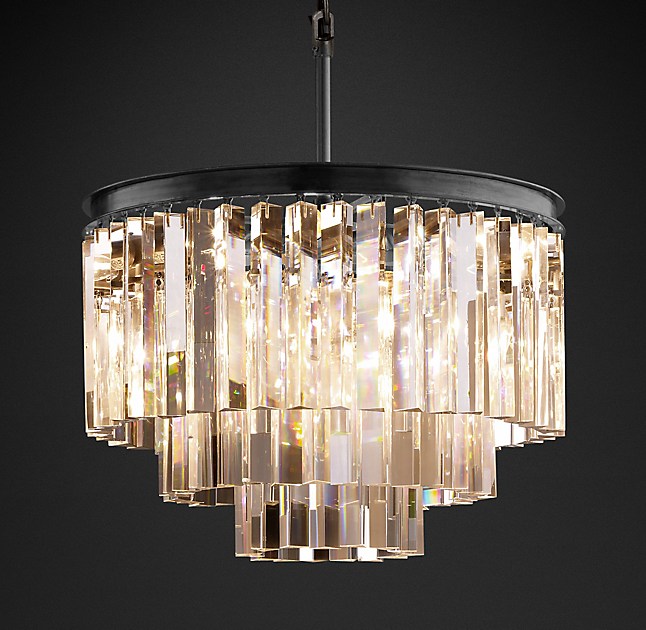 Odeon Clear Glass Fringe 3-Tier Chandelier ($2,295 or $1,721 for Members)
Determined to get something similar, I scowered the internet and found a lookalike version from Overstock below. Best of all, it was $315 – a fraction of the RH price! I was little apprehensive to purchase without seeing it in person, but after reading reviews and looking at in-home pictures (I love that reviews include those!), I decided to take a risk and I'm so glad I did. 
Gallery Odeon Crystal Glass Fringe 3-tier Chandelier, $315.99
The final product in our bedroom…Voila!
---